Brand4Rent licensing agency entrusted opening of its business in Russia to the «RosCo» specialists
«RosCo» company began its business interaction with Brand4Rent agency within the scope of provision of services as to the opening of business in Russia. A decision to start cooperation was made by the client based on reliable information about many years of experience of successful operation at Russian markets of consulting services and unblemished reputation of RosCo-Consulting & audit.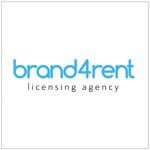 Brand4Rent company was founded in 2015 by former head of Disney Consumer Products. In 2016 Icon Promotion, Moscow licensing agency, became a part of the company. Company subdivision Brand4Rent ART conducts licensing in Russia and post-soviet states.
Brand4Rent agency renders a wide range of services, particularly:
licensing of brands for adults and children;

licensing in spheres of sports and art;

development of product design;

style guide development;

branding;

development of Apps.
Among the recent projects of the company is the licensing and marketing support of a world renowned animation brand  «Maya the Bee», which is owned by leading entertainment corporation «Studio 100 Group».