Specialists of «RosCo» have an assigned obligation of accounting support of representative office of B & T Gruppo
Italian B & T Gruppo company concluded a contract with «RosCo» for accounting support of the Russian representative office. Within the framework of contractual relations qualified specialists of RosCo-Consulting & audit conduct bookkeeping and business interaction with state tax authorities of RF.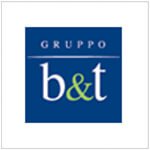 History of B & T Gruppo began over half a century ago: in 1961 Fausto Tarozzi and Emer Barbieri founded the Barbieri & Tarozzi Group enterprise, which was specializing in manufacture of equipment for processing and storage of ceramic tiles.
Currently the B & T Gruppo is a world leader in production of complex systems for ceramic tiles and sanitarywear fabrication, as well as a developer of cutting edge technologies in the area of robotic engineering.
The company operates in four directions: Tile (complex facilities for tile fabrication), Project Engineering и Digital Design (digital equipment for deration and implementation of digital projects in the graphic design area), B & T White (sanitary wear manufacturing technologies) and Ancora (system of finishing of ceramic materials).