Manufacturer of metal structures Villa Yapi entrusted maintenance of operation in Russia to «RosCo»
A contract is concluded for full consulting service of the business on the territory of the Russian Federation between «RosCo» and Villa Yapi – one of the leading enterprises of the construction sector in Turkey.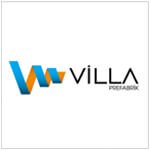 From 1999 the company with the factory of 20,000 square meters in Gebze, central office and showroom of 1,500 square meters in Istanbul, makes pre-factory buildings, buildings for construction sites, public buildings, hospitals, schools, offices, hangars and containers corrosion-proof light metal structures.
Consumers of Villa Yapi's products include customers from Turkey, North Africa, Iraq, Iran, Azerbaijan, England, Libya, Tajikistan, Sudan, Nigeria, Saudi Arabia, Ukraine, Georgia, Rumania and other countries.