Aziz-bebe registered the trademark using «RosCo»
«RosCo» began to render professional assistance to registration of the Turkish trademark Aziz-bebe on the territory of Russia, as well as receipt of allowance from the Republic of Turkey. The competence of the specialists of «RosCo» consulting company includes not only accounting and legal consulting and audit, but also complex support of activity with strengthening of the position of the foreign investor in the Russian market.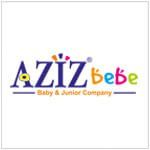 Aziz-bebe, known in Turkey and outside it from 1984, is engaged into production and sale ready-made clothes for children of 0-6 years old, in particular, clothes for newborn, suits, sets, hosiery.
The company owns 32 retail chain stores in Turkey, 36 franchising stores and 600 points of sale of the products in 45 countries of the world. Aziz-bebe branches are opened in Russia, Ukraine, Azerbaijan, Kazakhstan, Rumania, Bulgaria, Saudi Arabia, Lebanon and Algeria.