Engineering company Temeltas imposed obligations on «RosCo» on legal consulting
Russian branch of the Turkish company Temeltas concluded a contract with «RosCo» for provision of legal services within maintenance of the current activity on the territory of the Russian Federation. RosСo-Consulting & audit proved its competence and high professionalism in the field of legal support and accounting on outsourcing basis to the foreign partners for many times.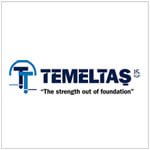 Temeltas, founded in 1998, conducts activity in the sphere landscape engineering and foundation construction. Temeltas implemented a lot of large-scale projects both in Turkey, and outside it. public and private customers of the company include IRAQ MINISTRY OF ELECTRICITY, IRAQ GERMAN HOSPITAL, Lotos Co, Unilever, ISTANBUL METROPOL MUNICIPALITY – Transportation.
Besides the branch in Russia, the company has also a representative office in Iraq.