HYUNDAI continued many years' cooperation with «RosCo»
HYUNDAI, company with the world name, extended the contract for provision of consulting services with «RosCo». Korean manufactures estimate professionalism and reliability of the leading Russian consulting company highly, preferring to enjoy its support for many years.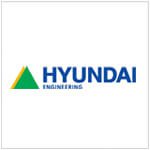 Hyundai Engineering and Construction (Hyunday E & C) is one of the world leaders of automobile, steel-making and construction industries. Founded in 1947, the enterprise has entered the Thai and American markets, and then the international market already in the 60-s.
In 2002 Hyundai E & C was recognized the second among 250 largest construction companies according to American ENR rating.
In April 2010 the corporation joined the UN Global Treaty, and in September ranked first in the world in the field of construction and manufacture of materials in accordance with Dow Jones sustainability indices (DJSI). In the same year Hyundai reached the amount of 100 billion dollars on foreign contracts, for the first time among Korean construction companies.