MOSCOW REPRESENTATIVE OFFICE OF MATTE CHOOSES ROSCO
The legal and accounting services of RosCo – Consulting and audit took charge of the Russian representative office of the Turkish building company Matte. Like many regular clients of RosCo, the branch decided to conclude a contract for provision of a package of services.
«Two-in-one» – legal and accounting support of the company activities in the territory of Russia – ensures economy of forces and time, financial stability and prosperity.
The client does not need to have its own accountants and lawyers: all necessary work on accounting and reporting, as well as on resolution of legal issues and representation of interests in government authorities is performed by the RosCo professionals.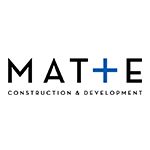 Matte is one of the largest Turkish building companies with offices in Istanbul and Bodrum. It has successfully implemented a lot of projects for the construction and organization of residential buildings, industrial complexes, hotels, shops and roads in the USA, Turkey, Kazakhstan and other countries of the world.