THE LARGEST MANUFACTURER RDC SSK HAS APPLIED TO ROSCO FOR SUPPORT
A contract for provision of legal services has been concluded with the leading Russian manufacturer, RDC SSK.

The clients of «RosCo – Consulting and audit» are the enterprises and organizations of various sizes, areas of business and legal forms. One thing remains unchanged – the high quality of legal, accounting and auditing services. During 15 years of work for the benefit of Russian economy, the RosCo specialists have been entrusted with the most difficult cases, and the company's business reputation is only improving.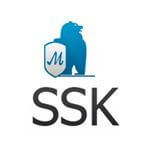 Founded in 1993, RDC SSK is the only Russian enterprise that manufactures industrial 4G and 5G lead-acid batteries. RDC SSK deals with development and manufacture of energy storage systems based on lithium batteries. The consumers of the products are the largest enterprises of Russia ranking among ТОР 1000.

For more than 5 years RDC SSK has been actively participating in promising developments and manufacture of safe, energy efficient and commercially viable lithium batteries, other batteries and energy storage devices for active-adaptive networks (Smard Grid).