«ROSCO» PROVIDES SERVICES FOR THE GERMAN INDUSTRIAL COMPANY ALPMA
The Russian representative office of ALPMA has ordered a package of service in the field of immigration law from «RosCo». «RosCo – Consulting and audit» has been carrying out continuous activity in various areas since 2004. The «three pillars» of success of the leading consulting company are 15 years of experience of work at the Russian market, talented management and a staff of skillful and competent specialists.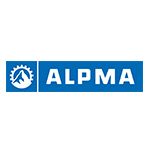 ALPMA is a leading provider of solutions for production and packaging of cheese. The German company with the headquarters in Rott am Inn (Germany) was founded in 1947 and has an international sales network with branches in France, Great Britain, Switzerland and Spain as well as agencies in other cheese-making countries.
«ALPMA» is a successful machine manufacturing company that produces machines and lines for dairy and food industry with over 70 years of history and subsidiaries worldwide. The staff has over 700 people. The company «ALPMA - Service» is its authorized representative in the Russian Federation.

Among the unique, world-known inventions of the company are the COAGULATOR for continuous production of cheese grain, BLOCKFORM for full mechanization of cheese production, the CUT series for semi-hard and hard cheese and the SAN series of packaging machines for soft cheese.