THE FAMOUS ISRAELI COMPANY MEROM FGP. LTD. HAS SIGNED A CONTRACT WITH ROSCO
RosCo – Legal Advice has signed a legal service contract with the Russian representative office of Merom FGP. Ltd. (Israel). RosCo team includes only qualified professionals, real masters of their work. You can safely rely on the team of the legal service of the leading consulting company as they solve the most difficult issues of clients as quickly and efficiently as possible.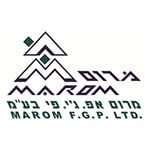 Since 1983 the Israeli company Merom FGP. Ltd. has been specializing in the design, production and import of a wide range of products (flags, masts, related equipment, promotional gifts), as well as duty-free trade (more than 30 brands).

Merom FGP. Ltd. develops and produces unique gifts and implements exclusive advertising and marketing projects, combining products from all areas of activity. The company's clients include Materna, MAM, Avital, El-Al, CTS, Eden, Honda, Orange, MIRS, NIVEA, YES Yedioth Ahronoth, Tadiran, Ness Technologies, Procter & Gamble.